You may haven't been travelling or going far for a pretty long time since you are pregnant. I guess you will be looking forward to travelling along with your little darling, to enjoy the sunshine, excellent view and so on. 
Are you excited about your new life journey? But remember, you are not alone anymore. You will have your little darling around you every day for years; as you may know, most of the time, the first months of newborn babies are just sleeping and feeding. They will grow fast if they have plenty of good quality rests. Babies sleep anywhere and anytime, so you should be prepared for out of the home. 
It is fantastic if the baby can always sleep in a familiar and comfortable crib. Still, of course, you couldn't bring a big crib for travelling. When you are out of your home, a portable and lightweight baby travel bassinet can help you if it is light enough and easy on using; it also is very compact after folded, making it easy to carry on.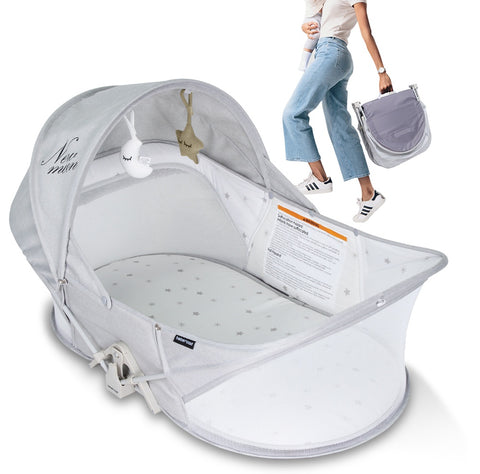 WHY DO YOU NEED A TRAVEL BASSINET?
We suggest you choose a friendly travel bassinet & crib for the first six months of your baby; it provides excellent conveniences while you are out of home with your baby. because a friendly designed travel bassinet can be settled quickly in the following places: 
Another house from your families or friends
Hotel rooms
In the stopped car (not used in driving, an adult must always companied on the side)
On flights and airports 
Train and stations
Restaurants
Park, outdoor, scenic spots
With a nice travel crib, your baby will sleep much better than without it during the travelling. 
You can be free again and spend a good time with families and friends or get a while to rest while your baby is sleeping safely in the bassinet.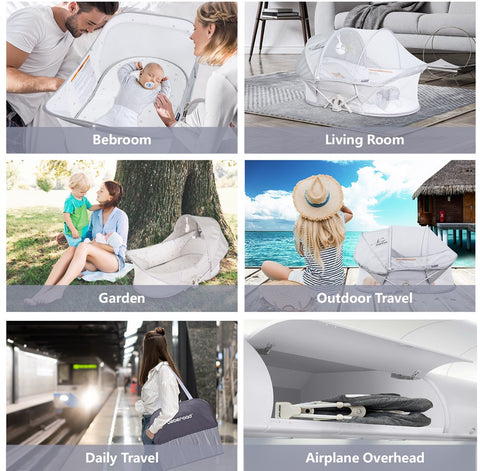 HOW TO CHOOSE A NICE TRAVEL BASSINET? 
Now starts to search for the best travel crib for your little darling, The Top Important Features for a suitable travel bassinet:
Lightweight: no one wants to bring a heavy bassinet everywhere while out of the home. I suggest it should not be over than 5lbs (or less than 2.5kgs)
Foldable and Compact: people do not want to bring anything significant when travelling with a baby. It must be very compact after folding.
Easy to Carry: it should be with a carry bag that you can easily carry while holding your baby with one arm.
Easy to use and pick up: it shouldn't be complicated to use and pick up and go. It should not take more than 60seconds to set up or pick up the bassinet. 
Comfort and enough space: it is not realistic to require a travel bassinet with the same comfort and freedom as traditional home bassinets and cribs, but it also shouldn't sacrifice too much. Anyway, it must still be comfortable and big enough for your baby and make sure the baby is happy sleeping in it. Otherwise, he may complain about it when he&she grow up.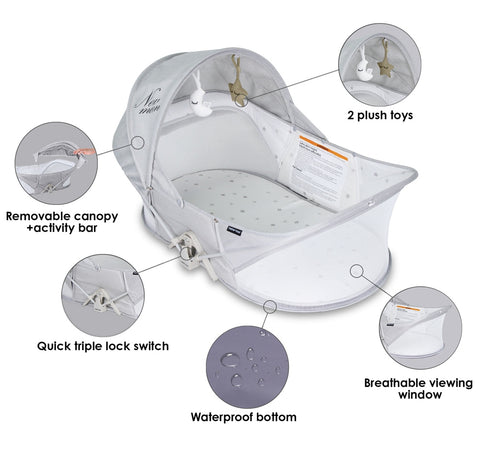 With a canopy and mosquito net, while you are using outdoors, a canopy on top can protect the babies eyes; it would be great if there were some toys on the roof; babies like to see the toys swinging on their top the head. It is suitable for vision development.
You know there are mosquitos and bugs outdoor. A mosquito net will protect your baby from them. By the way, it may also stop away from your cats when the baby is sleeping.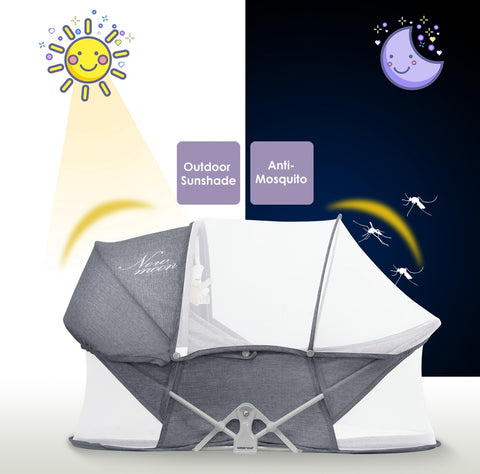 Safety, it should be well made, with excellent materials; strong metal chassis inside the woven wall will create more solid space, which may stop some minor unexpected impacts from out, like flying football, an unpredictable break branch, etc. And it must have related certifications. (ASTM F2194, CPSC for the US, EN1130 for Europe).
I highly recommend the Beberoad Newmoon Travel Bassinet for you, and it has 10% OFF for your first order! Get yours today! 
I wish you great happy times while travelling with your baby. 
Mark from Beberoad